WEBINAR: The Making of Donne Songs Without Words
WEBINAR: The Making of Donne Songs Without Words
Thursday
May 13th
2021
7:30pm ET
WEBINAR: The Making of Donne Songs Without Words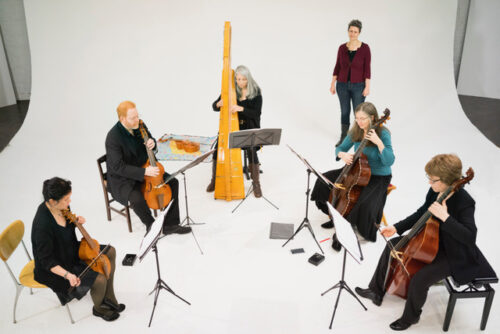 A Choreographic Work for Viol Quartet and Baroque Harp
by Eleonor Sandresky
Parthenia Viol Consort, Eleonor Sandresky, composer, Christa Patton, harp
with Paul Hecht, actor, and Melissa Sanchez, Professor of English at U. Penn.
Parthenia and guests discuss the conception, composition and performance of Sandresky's 2014 work, John Donne Songs Without Words, commissioned by Parthenia with a grant from the New York State Council on the Arts. We will explore our love of Donne's poetry, the guiding aesthetic for this work, and talk about learning to use body movements while playing our instruments, and show videos of the 2015 premier.
Watch with us on May 13, and join in the conversation! This program will be archived through May 23.
This concert was part of our 2020-2021 NYC Concert Series