A heptalogy (from Greek ἑπτα- hepta-, "seven" and -λογία -logia, "discourse"), also known as a septology, is a compound literary or narrative work that is made up of seven distinct works.
This the second part of a heptalogy that will explore how each of Parthenia's CDs came about, including how the musical selections were chosen and created, and what makes each of them special. For anyone who may have missed part one, you can read it here!
---
Van Morrison's recent pronouncements speaking out against lockdowns are—to say the least—a bit extreme. Nevertheless, there's no question that everyone dearly misses the incomparable experience of live music. As we publish this, our first blog for 2021, everyone at Parthenia is hoping for a return to real performance sooner rather than later. Vaccines are being administered, of course, so there is a light at the end of the tunnel. Let's continue to support one another and honor our heroic healthcare workers (APPLAUSE) as this complex task is carried out.
In the meantime, though, there are digital alternatives to live performance. For instance, on Wednesday, February 17 at 3 pm EST, Parthenia will hold a webinar in collaboration with the Morgan Library. This webinar will focus on the art and life of the poet, painter and printmaker William Blake. Morgan curators will discuss Blake's life and prints, and Parthenia will play their recording of the song cycle A Reliquary for William Blake—previously released on CD in January, 2007.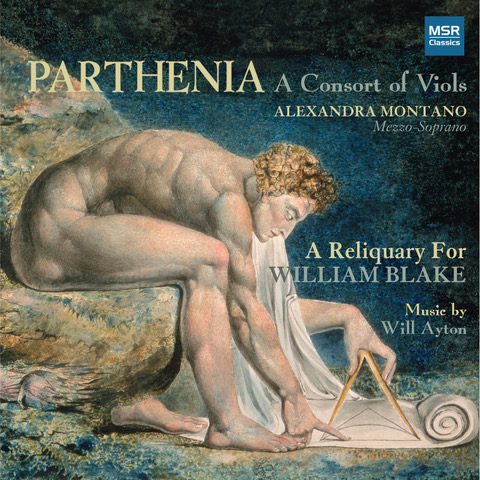 The exquisite music on this CD and the equally fine rendition of it by Alexandra Montano and her colleagues in Parthenia have produced an aural feast for the music lover… Recommended – and highly – for far more music lovers than just the early music crowd. — Fanfare
Just in case you didn't know, a reliquary is a container or vessel for sacred relics. The music on A Reliquary for William Blake—the result of a 2005 collaboration between Parthenia and composer Will Ayton—sets some of Blake's most-revered poems to music. The music stands on its own, but anyone interested in a deeper dive to explore the inspiration for this work will absolutely want to research both the life and art of William Blake.
Dedicated iconoclast. Rebel visionary. Pioneering hedonist. Even if you are not already familiar with his poetry or painting, there's no question that you've experienced work that was—either directly or indirectly—influenced by William Blake. Blake's life, work and attitude have influenced countless artists, composers and edgy teenagers (we've all been there) for centuries. Few creators have had an impact quite as extensive and long-lasting. Rimbaud usually gets most of the attention, but Blake is every bit as important a figure in the development and establishment of the "mad artist" template. Come to think of it, if Leonardo DiCaprio could do a late-stage film as Blake, that would make a very nice bookend to his 1995 turn as Rimbaud.
There's no such thing as A Quick Guide to William Blake, but to some extent his entire body of work is a contemplation of the tension between opposites:
The eternal versus the transitory…
The institutional church versus religion…
The tangible versus the spiritual…
This is a gross simplification, of course, but it does give a rough idea of the themes that Blake was obsessed with. Given his love of folk music, Elizabethan poetry and his Celtic heritage, Will Ayton was the ideal composer to set Blake's work to music. Likewise, Mezzo-soprano Alexandra Montano was the perfect singer to make Blake's words soar.
Blake was comfortable being uncomfortable. His embrace of disorientation is bound to be familiar territory for anyone who finds themselves rather adrift in our "New Normal" given how profoundly abnormal it all feels. Blake's poetry may be the ideal voice for our times, and what better way to experience that voice than set to viola da gamba music?