A heptalogy (from Greek ἑπτα- hepta-, "seven" and -λογία -logia, "discourse"), also known as a septology, is a compound literary or narrative work that is made up of seven distinct works.
The "kids today" are used to enjoying their music directly from the cloud, on a moment's notice. They have no idea what they're missing. There was once a time when the chance to release an actual, physical object containing recorded work was a huge milestone for an artist, not to mention their fanbase (remember the importance of cover art?) This the first part of a heptalogy that will explore how each of Parthenia's CDs came about, including how the musical selections were chosen and created, and what makes each of them special.
One misconception surrounding early music is that it is by definition ancient; typically dating back to the Medieval (500 to 1400) and Renaissance (1400 – 1600) periods. It's true that the source material for early music—the inspiration—is old, but there is also a vibrant scene of composers and performers who regularly create and record new works in the style of yesteryear.
Parthenia has always been at the forefront of this movement; all four members played contemporary music in college and later as part of Judith Davidoff's New York Consort of Viols. Likewise, all four members of Parthenia have demonstrated a career-long advocacy for music written for viola da gamba by living composers. As of this writing, Parthenia has commissioned or premiered over 30 new works for viols.
Commissioning, performing and recording new works has been a key element of Parthenia's philosophy since the beginning. In particular, the members of Parthenia cherish the creative process whereby composers learn about and fall in love with the sound and possibilities of the viol consort.
Parthenia's most recent CD, Nothing Proved, is a perfect illustration of the creative process described above. Released exactly three years ago in December, 2017, the disc is both a collection of music and stories. In the words of Beverly Au, "Those stories include themes of religions, politics, feminism, power, magic and nature, all expressed through ancient instruments but using the voice of contemporary composers to bring a new perspective to the old instruments in a modern, meaningful way."
The piece Nothing Proved is the result of an idea of Beverly Au's. "My original concept," Beverly explains, "was to create a song cycle based on Elizabeth I's own words. I had initially thought that it would be really interesting to interpret the words of such an important and complex woman, using the consort song instrumentation/form that was so popular in Elizabethan times, yet viewed through the contemporary lens of a 21st Century woman composer with a modern voice, and ideally a composer with great familiarity with the Elizabethan musical tradition."
This idea would eventually lead to collaboration with three contemporary composers: Kristin Norderval, Tawnie Olson and Frances White. That a project inspired by a woman should result in pieces created by three female composers seems appropriate. The members of Parthenia are quick to point out, however, that this wasn't necessarily planned. The quality of the music was a factor, certainly, but there were also important considerations related to playability: finding works that would be appropriate for the range of the viol, plus music that would suit the respective playing styles of all four members and their instruments.
Kristin Norderval, for instance, was chosen because her style felt compatible, plus she is a performing soprano who could sing the lyrics, not to mention her extensive early music experience working with the esteemed vocal group Pomerium (Alex Blachly, director). Nothing Proved was premiered in 2008 in a concert that also included Elizabethan era music, accompanied by a script about Elizabeth narrated by actors Paul Hecht and Roberta Maxwell.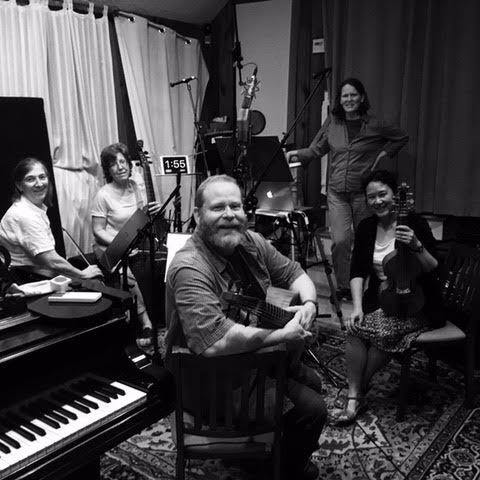 Nothing Proved is a multifaceted work that explores the personal and the political. Several dimensions of Elizabeth's personality are explored, including everything from her pithy wit to her melancholy. The first two pages of the program from the first performance can be viewed here:
Since 2008, Parthenia has performed Nothing Proved several times, and it was even mentioned by Alex Ross, music critic with The New Yorker in his blog after a 2013 performance: 
https://www.newyorker.com/magazine/2013/04/29/even-the-score
Tawnie Olson, meanwhile, was commissioned to set John Hare's Thorns to music by John's wife Terry Hare, who is actually a viol player and fan of Parthenia. Tawnie and Ros worked together to explore the viol's possibilities, and the result was a remarkable composition featuring chords and arpeggios that can literally only be played on viols. The combination of bass-baritone with tenor viol and three bass viols give this piece a growling, ominous edge.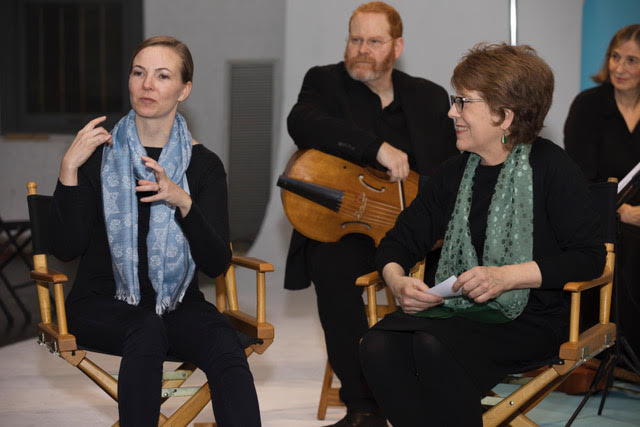 Last but not least, Parthenia met Frances White through Kristin Norderval and quickly fell in love with her surging, singing string-writing style. Parthenia commissioned Frances to write a work for four viols plus electronics, and the result was A Flower On the Farther Side, which premiered in 2010. In the following year this piece received an impressive multimedia treatment courtesy of Wendy Steiner and Andy Lucia, who created an audio-mapping graphic design program that would create "blooms" each time Flower played.
Called "Traces On the Farther Side", this piece was entered into the Palazzo Bembo's exhibition during the Venice Biennale in 2019.
And, in 2013, Parthenia was the featured ensemble for Random Access Music, a composer's consortium. Five composers wrote works for Parthenia to premiere that fall, in two concerts, and Frances White was one of them. She wrote From a Fairy Tale using an original tale by her husband, James Pritchett, with Valeria Vasilevsky reading the story.
2020 was the year that the entire world was forced to play it safe, but it's essential to leave room for surprises. All of the selections on the Nothing Proved CD are passionate, vibrant, and—most importantly—contemporary creations that every music fan deserves to experience. For your listening pleasure, you can also investigate this YouTube playlist, which recreates the entire CD as a selection of live performances:
Early music may be the inspiration, but each of the works on Nothing Proved are the product of living, vital artists who are working in the present. Life has changed, but it's important to remember that artists are still hard at work creating, communicating, and speaking for us. Their works are ready for you to discover in the new year.
Oh – and one more thing…
December 24 is the birthday of none other than Larry Lipnik, founding member of Parthenia! By way of (musical) celebration, we're sharing the following video with you. Perhaps a future collaboration between composer Parry Gripp and Parthenia can be arranged? Anything is possible!