October 22 is quite possibly the most significant date in the entire history of Parthenia. It was on this date in 1997 that we officially declared Parthenia a quartet, solidifying the partnership that has defined the group for nearly a quarter of a century.
How did it happen? Music history is overloaded with mythology: Beethoven's tinnitus… The riot that broke out during the 1913 premiere of Stravinsky's The Rite of Spring… The day John met Paul at an otherwise unprepossessing church fete… When they make Parthenia: The Movie the details will predictably be heightened for dramatic effect, but the truth is, our decision to become a quartet was largely a result of trial and error.
Parthenia had already existed in some form or another since 1989. In between, there were several years of experimentation, false starts, and costume changes (more on that anon!). Most importantly, though, we hadn't quite managed to find ideal chemistry in terms of personnel. It took a long time to discover the right combination of people with talent, enthusiasm and the collaborative spirit necessary for long-term success. Once we recognized that our ideal expression was as a quartet composed of Beverly, Larry, Ros and Lisa, there was no turning back.
On October 22, 1997, we discussed our plans over lunch at Ollie's,* which, for those readers who aren't New Yorkers, is a beloved Chinese food restaurant. Exactly what was ordered that day has been lost to time (artists aren't fond of receipts) but everyone clearly recalls that one of our fortune cookies stated rather matter-of-factly that "Your Present Plans are Going to Succeed." The cookie's optimism made a big impression on all of us, but Beverly, in particular, was inspired to design what would become our original logo: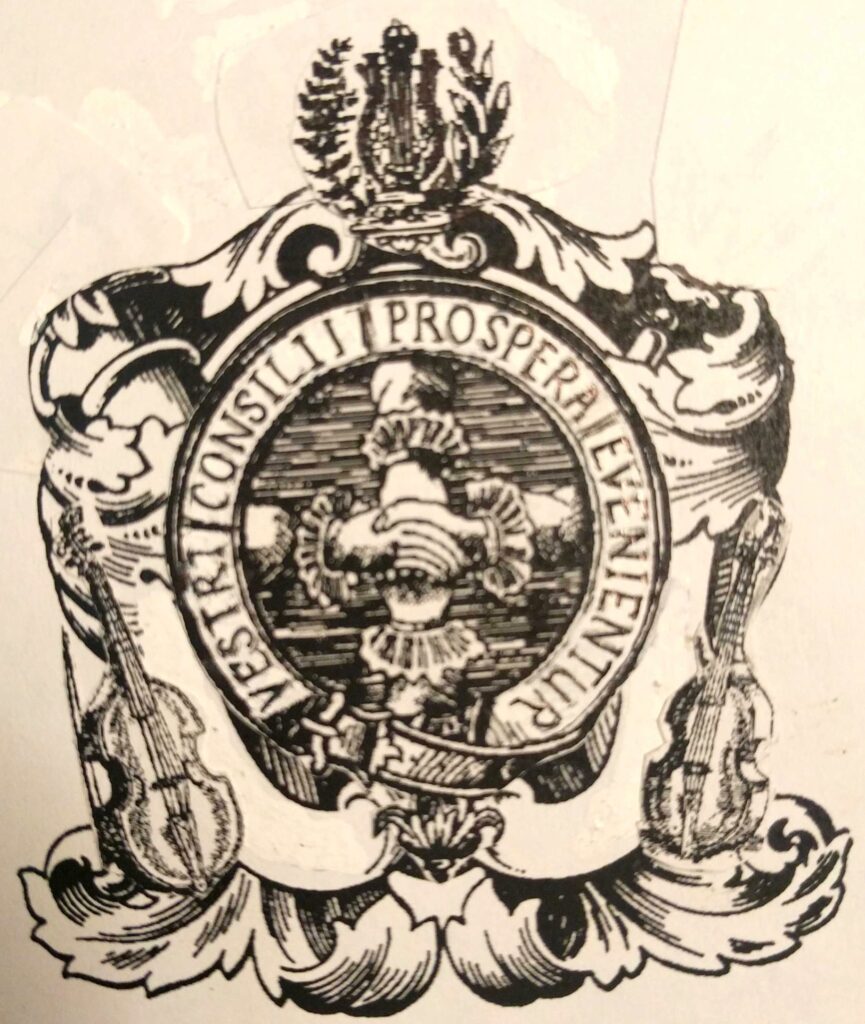 The text is latin, of course: "Vestri Consilii Prospera Evenientur!" (Your plans will succeed!)
Quite. After that meeting, Frederick Renz, the Director of Ensemble for Early Music, gave Parthenia rehearsal space in their offices under St. John the Divine, and also 501c3 status by acting as our fiscal sponsor. Fred and staff served as our booking agent, suggesting us for concerts around the area, offering us concerts and collaborations at the Cathedral, and helped us write our very first grants for public funding. So, for any fellow artists reading this, take heart. Finding the right collaborators is a challenge, but once you do, you'll be shocked at how quickly things start falling into place!
In preparation for what we knew would be our anniversary blog, we did an extensive search of the archives to find appropriate goodies to share. Below are two photos from Parthenia's first-ever gig as a quartet in 1998. Everyone is wearing black, so we're looking decidedly more goth than we do now. These were taken at the Winter Garden Atrium.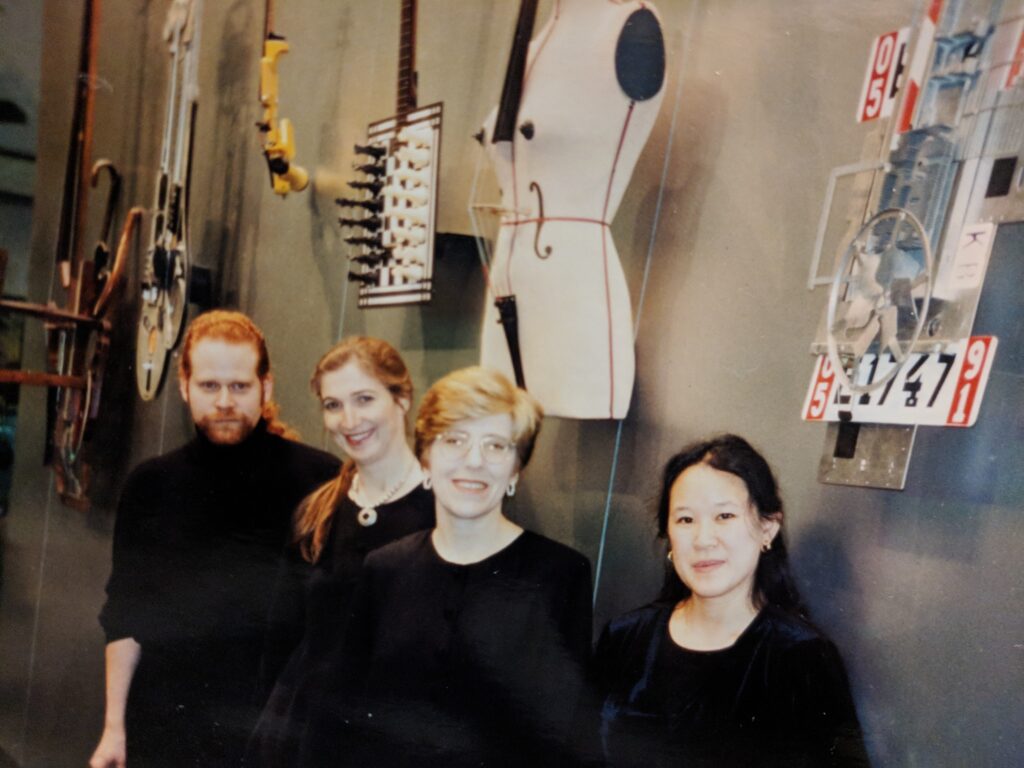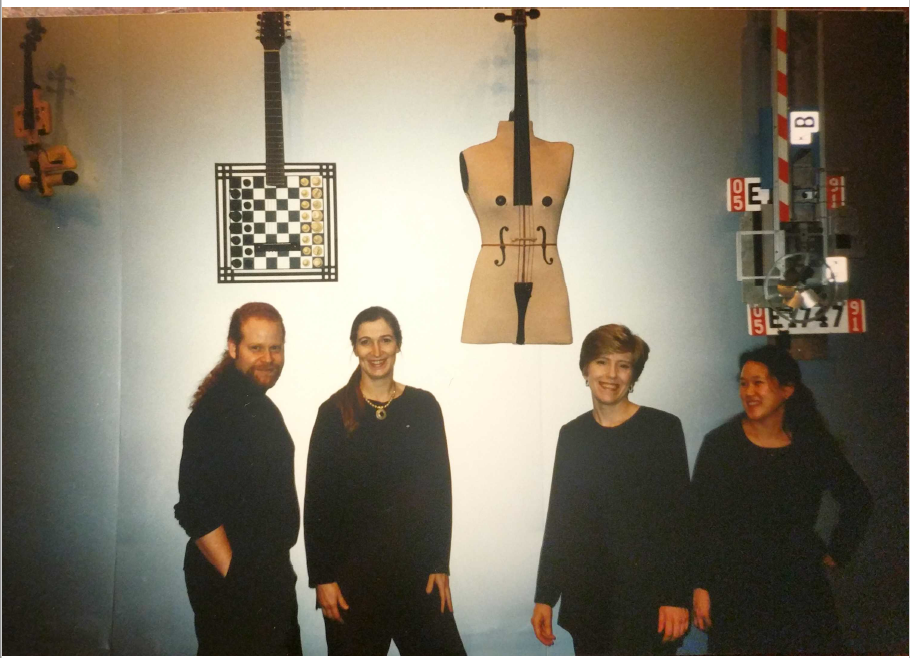 Incidentally, you may be wondering: Is that a mannequin's torso refurbished as a cello in the background? Yes! More specifically, that's a hybrid musical instrument designed by Ken Butler, a brilliant artist/musician/creator of experimental instruments. Be sure to explore his work!
Next, we have a copy of the flyer from our first season in 2000-2001: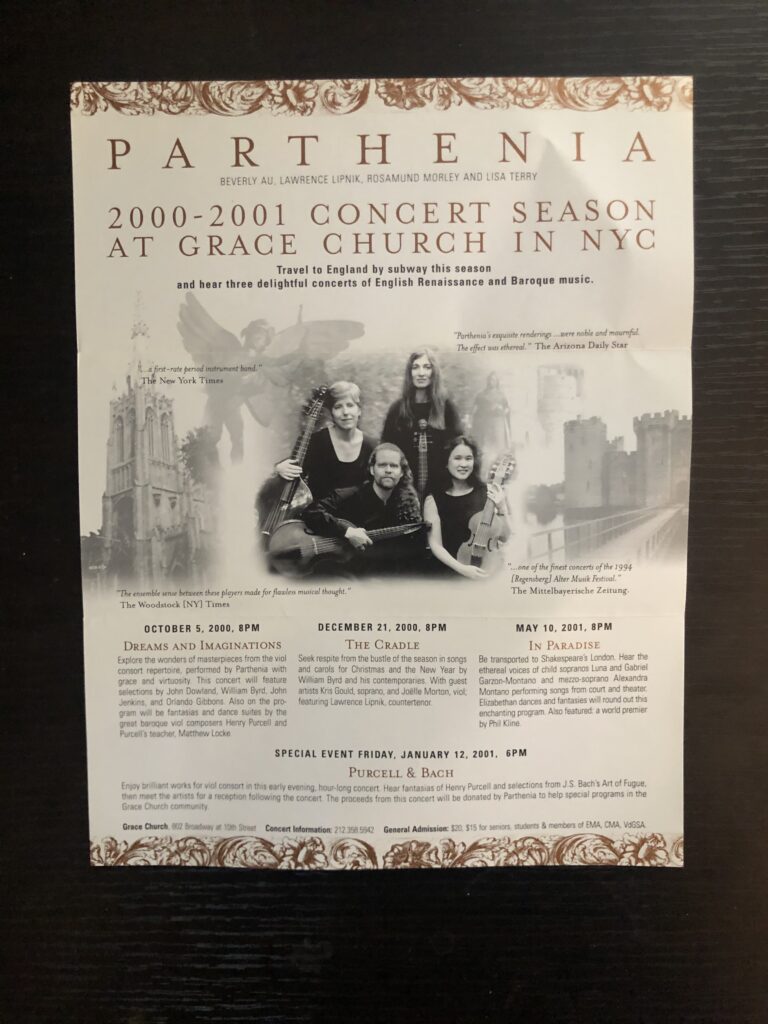 Last but not least, a longtime friend and supporter provided us with the program from our very first concert series (below as a pdf file) in October, 2000.
Finally, after much deliberation, we decided that the ideal musical share would be a selection from a recording that was made in the summer of 2000. This is from a collaboration with Phil Kline, who composed a song cycle for viol consort, mezzo, and two child sopranos, with lyrics by David Shapiro:
Us Tasting the Air stood out for several reasons:
The voice of the child soprano is gorgeous and timeless
Us Tasting the Air – That title seems especially poignant nowadays, doesn't it?
The lyrics attempt to forecast the future: "For all I know, in twenty years, the tiger and the cougar and you and I will all be in Colorado…". Close!
On this, our anniversary, we'd like to humbly and sincerely thank all of our fans, friends and supporters who have stuck with us on this amazing journey. We cherish all of you!
*Just as an aside–although there are now four different locations in Manhattan, the original Ollie's was actually the one near Columbia University–exactly where team Parthenia met all those years ago! And, just for additional irony, the first Ollie's opened in 1989… Curious, no? Perhaps a future blog will further investigate the strange symmetry between Ollie's and Parthenia in greater detail. You'll just have to keep reading to find out!